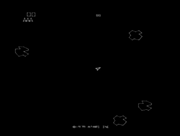 Asteroids
is a
multidirectional shooter
Arcade
game released in 1979 by
Atari
. It is a classic game and is part of the
early years of Arcade games
. Later thanks to the popularity of Asteroids it had sequels and became a
series
.
Asteroids
is a vector based game much like many games during the early era.
Description
Edit
This game is best described by the vector based Asteroids that float in space. The ship looks something like a arrow head.
Asteroids has been ported to many systems, including the Atari 2600, Atari 7800, and Atari Lynx. Atari 5200 never had an official release but AtariAge unofficially released it. Computer based version for Windows 3.1 was released in Microsoft Arcade package in 1993. Also, a new version of Asteroids was developed for PS1, Nintendo 64, Windows, and the Game Boy Color in the late 1990s.
In 2004, Asteroids was released including Atari 2600, Arcade, and Asteroids Deluxe versions in the Atari Anthology game collection for both Xbox and PS2.
Asteroids was released on the Xbox Live Arcade for the Xbox 360 on November 28, 2007.
Glu Mobile released a licensed cellular phone version of Asteroids.
Also, a port for Rockbox was released, named "Spacerocks".