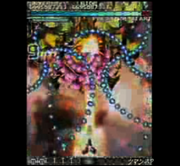 Do-Don-Pachi Dai-Fukkatsu
is the fifth game in
Cave
's
DonPachi series
which was released in the
Arcades
on May 22, 2008.
Game play
Edit
The Game has 3 different Fighters:
Do-NX-SF-25B Struggle Fighter "Deltasword" (red): fast movement, concentrated front shot formation.
Do-NX-AH-16B Assault Helicopter "Biaxe" (green): forward main shot, subshot follows player's direction.
Do-NX-FB-72D Fighting Bomber "Spearhead" (blue): slow movement, wide area shot formation.
This version includes the following changes:
2 extra digits on the score counter.
Fixed item counter mismatch.
Added 1 more fighter type.
Standard auto bomb.
Adjusted game balance.
Marketing
Edit
Following the trend of DeathSmiles, the back of the arcade game leaflet includes a template for finger twister game.
External links
Edit
Community content is available under
CC-BY-SA
unless otherwise noted.