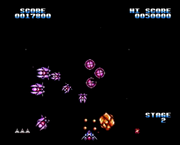 Gyruss is a Tube Shooters Arcade game developed by Konami, and released in 1983. It was designed by Yoshiki Okamoto, who had earlier created Time Pilot for Konami. Gyruss was licensed to Centuri in the United States, and was ported to numerous games consoles and home computers. It follows in the tradition of space war games such as Space Invaders and Galaga.
Gyruss was the second and last game Yoshiki Okamoto designed for Konami, after Time Pilot. Due to pay disputes, he was fired after the release of this game, and soon joined Capcom, where he would write 1942 and the first Street Fighter game.
Gameplay
[
]
The gameplay is very similar to that of Galaga but with an added twist: the game is presented in a forced 3D perspective, with the player's ship facing 'into' the screen and able to move around the perimeter of an implicit circle - essentially, Gyruss was Galaga mapped onto a Tempest-like cylinder. This gameplay style is called a Tube Shooters, and Gyruss is one of the very few examples that exist. The familiar scrolling starfield of earlier space shooter games was arranged to fit the 3D perspective, with the stars coming into view at the centre of the screen and flying outward, giving the impression of the player's ship moving very fast through space.
The majority of enemies are other spaceships, all of which must be destroyed before a level is completed. They appear either from the centre of the screen or from one of the edges, and move in swirling patterns. They can shoot the player's ship or destroy it by contact. They hover near the centre of the screen after completing their deployment pattern, and occasionally fly outwards and shoot at the player. If they are not destroyed by the player, the enemy ships gradually fly away one by one attacking by running into you.
See also
[
]
External links
[
]