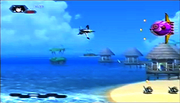 Otomedius is a horizontal shooter by Konami released in the Arcade for Japan on December 31, 2007. The Game featured personification of space fighters from various Konami games. The main characters are females, designed by Mine Yoshizaki, with a set of equipments resembling space fighters from the side-scroller games by the same company Gradius, Xexex, Salamander and Parodius. The name is a pun, being a portmanteau of the terms "otome" (meaning "maiden" in Japanese) and "Gradius".
In 2008, Konami released a set of figures based on the main characters on the game. These designs use the Konami MMS2nd figure as their base, the same used in their Busou Shinki line. The sets also each contained 2 penguin mascots which are common enemies in the game Parodius.
A port to the Xbox 360 as Otomedius Gorgeous! on Nov 19, 2008 in japan.
Community content is available under
CC-BY-SA
unless otherwise noted.